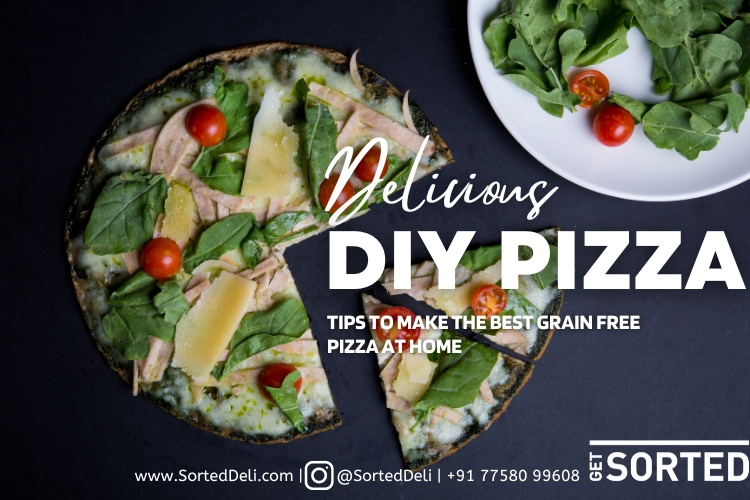 There's something magical about a pizza night. The aroma of freshly baked dough, the colorful medley of toppings, and the joy of sharing a delicious meal – it's an experience that brings people together. But what if we told you that you can elevate your pizza night to a whole new level of health and flavor? With Sorted's Low GI pizza bases, you can indulge in your pizza cravings guilt-free while embracing the nutrient-rich revolution.
A Healthier Foundation: The Low GI Pizza Base
Bid adieu to the days of conventional, high GI pizza bases laden with refined flour. Sorted's Low GI pizza bases redefine the way you approach this beloved classic. Made from a blend of wholesome ingredients such as vegetables, nuts, and seeds, these bases not only cater to your taste buds but also support your well-being. The low glycemic index ensures a gradual release of sugars, preventing those energy crashes that often follow high-carb meals.
Revolutionizing Pizza: Beyond Refined Flour
Imagine enjoying a slice of pizza without the guilt that often accompanies indulgence. Sorted's Low GI pizza bases make this dream a reality. As a healthy replacement for refined flour pizza, these bases offer a rich dose of essential nutrients, leaving you satisfied both in terms of taste and nutrition. Whether you're following a specific diet plan or simply looking to make smarter food choices, these bases align with your goals.
Catering to Every Palate: Personalized Pizza Perfection
One of the beauties of a DIY pizza night lies in the ability to tailor each pie to your preferences. Sorted's Low GI pizza bases embrace this concept of personalization, inviting you to explore a world of flavor combinations. Are you a fan of the classics? Load up your base with tomato sauce, fresh mozzarella, and basil leaves. Craving something adventurous? Experiment with exotic toppings and aromatic herbs.
From Cauliflower to Almond: Fueling Your Pizza Creativity
Sorted's commitment to diversity extends beyond ingredients to a range of pizza base options that cater to different dietary preferences. If you're venturing into the world of keto, the Cauliflower & Whey Protein Crusts are your best companions. Their low carb content and rich texture create the perfect canvas for your keto-friendly toppings. On the other hand, the Almond Pizza Crust adds a nutty depth of flavor, perfect for those seeking a unique twist.
Easy Keto Pizzas: The Cauliflower & Whey Protein Crusts
For those embracing the keto lifestyle, crafting a pizza that aligns with the diet's principles can be a delightful challenge. Sorted's Cauliflower & Whey Protein Crusts simplify this task, offering an easy way to enjoy your favorite flavors while staying within your carb limits. Topped with cheese, veggies, and your protein of choice, these keto pizzas become a guilt-free indulgence.
Embrace Nutrient-Rich Deliciousness: The Almond Pizza Crust
If you're looking to infuse your pizza night with rich, nutty flavors, the Almond Pizza Crust is your canvas. Crafted from almonds and seeds, this crust boasts a wholesome taste that elevates your pizza experience. Its unique texture and taste make it an excellent platform for experimenting with a wide range of toppings – from savory to sweet.
Incorporating Sorted's Low GI pizza bases into your DIY pizza night is more than a culinary choice; it's a step towards embracing a nutrient-rich lifestyle. As you savor each bite, you're not just indulging in deliciousness but nourishing your body with every slice. From classics to keto-friendly creations, Sorted's pizza bases empower you to unleash your creativity while celebrating health and flavor. So, roll up your sleeves, prep your toppings, and embark on a journey of personalized pizza perfection that goes beyond the ordinary.