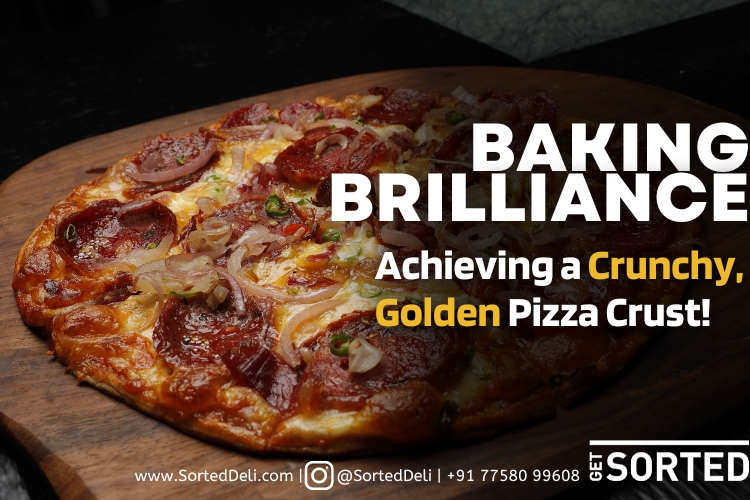 Pizza night is a beloved tradition in countless households, and for a good reason – there's something truly magical about that perfect slice of cheesy, crispy goodness. But what's the secret behind achieving that golden, crunchy pizza crust, especially when opting for a Grainfree, gluten-free pizza base? We've gathered some expert tips, including insights from a satisfied client, to help you master the art of pizza perfection. Whether you're using Sorted's innovative Grainfree pizza bases or crafting your own, these tips will elevate your pizza game to a whole new level.
1. Preheat to Precision
The foundation of a perfect pizza crust is a well-preheated oven. As our client wisely discovered, setting the oven temperature to 250 degrees Celsius (about 482 degrees Fahrenheit) is an excellent starting point. This high heat ensures that the pizza cooks quickly, allowing the crust to become delightfully crispy while maintaining a soft interior.
2. Find the Sauce-Cheese Balance
Achieving the ideal sauce-cheese ratio is a delicate dance. Our client's experience highlights this beautifully. To avoid a pizza that's overly crowded and potentially soggy in the center, aim for a sauce quantity of around 35-45 grams paired with 70-90 grams of mozzarella cheese. Experiment within this range to find the perfect balance that suits your taste buds and desired texture.
3. Watch the Cheese Browning
Here's where the artistry of pizza baking truly comes into play. Keep a close eye on your pizza as it bakes. When you notice the cheese beginning to turn a hint of golden brown and bubbling on top, it's time to take action. Removing the pizza at this precise moment, around 4.5 minutes into baking, results in a uniformly crispy pizza crust that's nothing short of perfection.
Additional Tips for a Thin Crust Pizza:
If you're aiming for a thin pizza crust, consider incorporating these additional tips to achieve that mouthwatering crispness:
4. Roll the Dough Thinly
The foundation of a thin pizza crust is, of course, the dough. Roll it out as thinly as possible, aiming for an even thickness across the entire surface. If you're using Sorted's pizza bases, they are already crafted to the perfect thickness for a delectable thin crust.
5. Use a Pizza Stone or Steel
For an extra layer of crispiness, invest in a pizza stone or steel. Preheat it in the oven along with your oven rack to ensure an even distribution of heat. Placing your pizza directly on the stone or steel will result in a beautifully crisp bottom crust.
6. Less is More with Toppings
When it comes to toppings for a thin pizza crust, less is definitely more. Keep it simple and light. Overloading your pizza with ingredients can weigh down the crust and prevent it from crisping up properly.
7. Consider a Light Olive Oil Drizzle
Before adding your sauce and toppings, consider drizzling a small amount of olive oil over the pizza crust. This not only adds flavor but also helps create a barrier that prevents the sauce from making the crust soggy.
8. Don't Forget About the Oven Rack
The position of your pizza in the oven matters. Placing it on the lower rack can help achieve that ideal balance between a crispy bottom crust and perfectly cooked toppings. Experiment with rack placement to find what works best for your oven.
Master the Art of Pizza Baking Achieving a golden, crunchy pizza crust is an art, and like any art form, it requires practice and attention to detail. By following these expert tips, including the invaluable insights shared by our client, you're well on your way to becoming a pizza-baking maestro. Whether you're using Sorted's innovative pizza bases or crafting your own from scratch, these guidelines will help you create pizzas that are nothing short of perfection. So, preheat that oven, strike the ideal sauce-cheese balance, watch for that cheese to turn golden brown, and embrace the deliciousness of a crispy pizza crust that's sure to leave your taste buds singing with joy.